Bought a Crosman Mark II, a Sheridan HB20 and a cheap Chinese sidelever rifle in the '80's.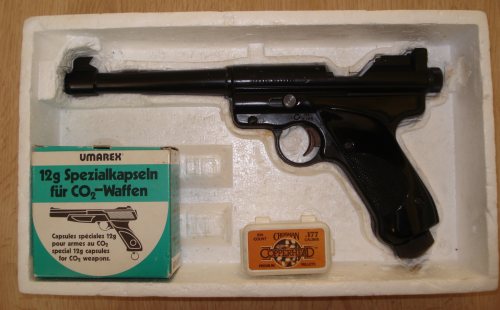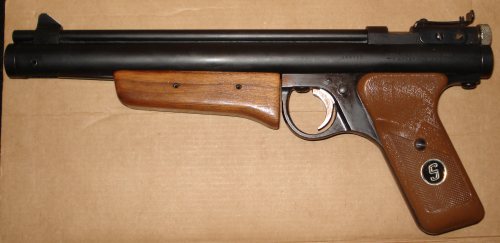 Last year I started shooting again and bought a Crosman 1377c, at that moment the airgunaddiction started
It has had some modifications.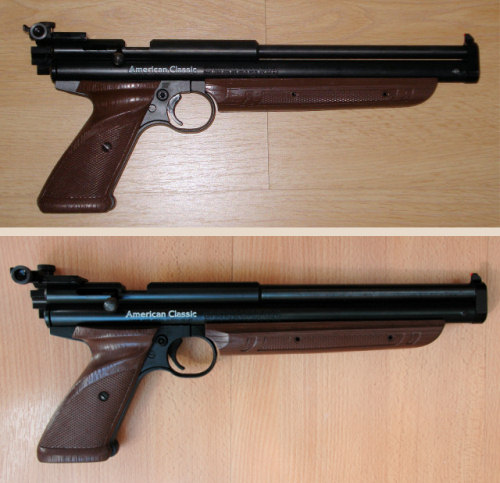 Blue Fork Design sighted barrelband, shrouded barrel, steel breech kit, Williams notched blade sight, SD Custom springs, SSP250 trigger.
Early this year I bought a Crosman 2250B

Crosman silencer, Crosman steel breech kit, Gamo red dot, filled the hollow spaces of the shoulder stock with lead for balance, not enough unfortunately, am thinkin about making a wood insert for the shoulder stock.
Shortly after that I bought a used SSP250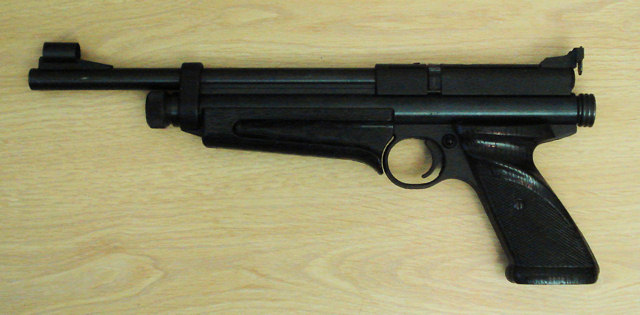 Only altered the front sight, that's a glow type now
In March a 2300S joined us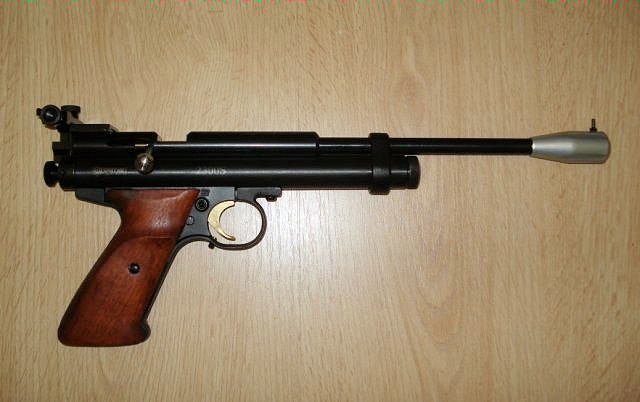 No mods (sold the wooden grips again, like the original ones, those grip best for me)
In May a colleague of mine visited Poland and brought me a 2289G

SD Custom springs, used CB breech + (not on the pic) new CB bolt bought @ SD
Plugged the bleed hole last night, it's full power now, just like the US version
Also got a Rohm Twinmaster Trainer and old Diana break barrel pistol as part of payment for one of my motorcycles I sold. Gave the break barrel to a friend that started shooting at a club recently and wanted to train at home aswell. The Rohm might be up for sale soon. I had a trade with someone in the UK who wasn't at home upon several deliveries and track-and-trace packages have got to be signed so it's on it's way back now. He never sent me his package. Allthough the Rohm is not illegal in the Netherlands it looks a bit like an Italian pistol so it's not a keeper.
Also got an old Haenel from an uncle, it needed extensive cleaning, made a new rear sight out of aluminium

On their way from Crosman to Airgunexporter are these:
Hope they will arrive in July.
And finaly... the guy I bought the used CB breech from also sold me a broken SSP250 in parts. The valve needs some work, parts have been ordered, the shroud moved to the 1377c and I made a new one from a piece of airtube (that's needs to be shortened). Not on the pic is a Crosman airrifle front sight.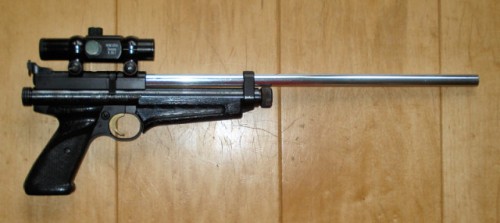 No complaints from mrs Brutuz, but I'm on a monthly budget now :ubbloco